Can a 15 Watt solar panel do what it should, or will it just let you down?
Ahhhhh, the eternal question of a person considering a solar panel of miniature proportions.
Before we pass judgement on whether small solar panels are worthy of our hard earned dollars, however, let's take a look at which size department the 15 Watt solar module actually fits into. Is it really a small? Or could it be a medium or a large?
Maybe that seems like a no-brainer since we have already discussed the small size of the panel. Let's not forget, however, about the really small solar modules that are available.
For instance, a 15 Watt panel offers fifteen times the power of a 1 Watt Sunforce 50013 Solar Charger. It also offers over seven times the wattage of the 2 Watt solar panel offered by Voltaic Systems. So we can safely say that a 15 Watt panel is not the smallest of the small.
Are there any other size categories that we can cross off our list?
Considering the fact that SunPower and Schuco have solar panels that produce 315 Watts and 350 Watts of power respectively, I think it's also safe to say that a 15 Watter does not belong in the 'large' category of solar modules.
If a 1 Watt panel is extra small and a 350 Watt panel is extra large, a medium sized panel would have to fall into the range of the 85 Watt KC 85T from Kyocera Solar or the 120 Watt MF-120 module by Mitsubishi Solar.
This definitely confirms that a 15 Watt solar panel belongs in the small category. Let's just say it is in the middle section of the small solar panel category.
Now what kind of power can we expect from this "middle of the small category" kind of solar panel?
A simple rule of thumb to remember is that a 15 Watt module should provide about 1 amp per hour in direct sunlight.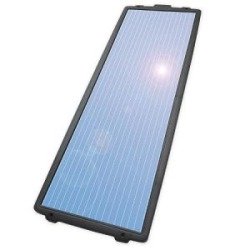 This kind of power can help you keep the batteries charged on your:
If you're planning on using your panel for battery charging you might want to look for one that comes as part of a kit that includes a 12V car adapter, a length of wire, and battery clamps.
Also, it is recommended that you use a charge controller with a panel this size to prevent overcharging and discharging.
Other ways you can put a 15 Watt panel to work include powering up a deer feeder or an electric fence.
Now that you've got some ideas for what you can do with your 15 Watt solar panel, you're probably starting to wonder just how much one of these gadgets will cost you.
Of course there is quite a range of prices available and they are changing all the time (welcome to the wacky world of the cost of solar panels). Nevertheless, the following results from a few dozen internet searches should give you a good starting point:
The Instapark® SP15 High-efficiency Mono-Crystalline Solar Panel was on sale at Sears for $59.99. This is a pretty sweet deal for a monocrystalline solar panel (or any solar panel for that matter).
The NPower 15 Watt Amorphous Solar Panel was selling for $79.99 at Northern Tool And Equipment. Amorphous silicon can have its advantages in low light conditions and this one also comes with a five year manufacturer's warranty.
The iMob 15-watt Solar Battery Charger was selling for $88.12 at Overstock.com. This unit has overcharge protection and works with multiple battery types.
The Goal Zero Boulder 15 Watt Solar Panel is a rugged looking mono-crystalline solar panel that sells for $164.95 at Canadian Outdoor Equipment Co.
You can also buy a 15 Watt panel at Deer Shield Electronic Deer Control for $275.00. This will keep your Deer Shield Super Pro powered up and repelling deer from your crops and orchards.
As you can see there is quite a range of prices but there are some great deals to be had. Now hopefully you're ready to start shopping for a 15 Watt solar panel of your very own.