Solar lights are a great way to dip your toe into the solar water pool.
(Not literally of course.)
An incredible variety of these lights are now available and there are some very low cost options.
Solar is a great way to light places when running electrical wire isn't "feasible" (i.e. it's too damn expensive).
Solar offers beauty and security and it doesn't increase your utility bill by one cent.
Here are a few ideas for what you can do with solar outdoor lights:
Or how about these ideas for your solar powered lighting:
One of the solar light styles that's more popular than ever is the solar post light. These little beauties attach to the top of any fence post and add a little solar powered class to even the most remote section of your yard.
These post cap lights are available in cheaper plastic versions or you could spend a little more for stainless steel, copper, or bronze.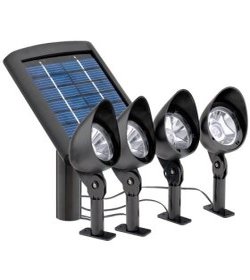 A solar path light is another way to add a nice accent to your yard while also adding a little safety. Don't put your guests at risk with an unlit walkway. Light the way so they can see where they're going (you might even save yourself a lawsuit!).
Or how about getting on Santa's 'nice' list by choosing the energy efficiency of solar christmas lights. Not only will you be 'going green' but you'll be keeping your electric bill down over the holidays too.
Solar deck lights are another cool solar solution to your backyard lighting needs.
If you're ready to get a little more heavy-duty with your solar powered lighting, you can even install solar street lights.
Now that you've got enough ideas to get you started with solar lighting, let's take a look at how solar powered lights actually work:
Solar illumination units are usually self-contained. They use a solar LED light and have a small solar panel that converts sunlight to electricity. The electricity is stored in a small battery and used to power the unit at night. The next day when the sun comes up, the charging cycle starts all over again.
Outdoor solar powered lights usually require between 4 and 8 hours of sunlight to fully charge their batteries. They are suitable for most areas of the world (although you may not get a full charge on some of those shorter winter days).
Before investing in solar outdoor lighting, you should check to see if the batteries are removable so you won't have to buy a new unit if the battery dies.
Let your imagination run wild and think of some new ways to take advantage of solar lighting. Since an amazing variety of solar powered lights are available very inexpensively, you can try out some new solar solutions without breaking the bank.