Roll up solar panels sound great, but they also seem a little "gimmicky".
I mean, how much solar power can you expect from a solar panel you can roll up and put in your backpack?
That's one of the questions we're going to answer about these flexible solar panels.
We're also going to take a look at some of the different companies that are producing these bendable power plants so you have a better idea of where to spend your hard earned money.
Before we get to that, however, let's take a look at what roll up solar panels are.
There are two main kinds of these panels. The first is a thin film solar panel that is designed for rooftop installation. The second is a portable solar panel that can be used to charge up your ipod, cell phone, or laptop computer on the go.
Let's take a quick look at roll up rooftop panels before moving on to the portable panels that can keep your gadgets charged.
When you think of rooftop solar panels you probably think of panels with a glass front and a rigid aluminum frame. These are the most common type of panel currently being manufactured.
There is another kind of rooftop solar panel, however, that unrolls like a carpet and is fastened to your rooftop by an adhesive layer on the back of the panel.
What are the advantages to having roll up solar panels on your roof?
The first bonus of flexible panels is that they integrate with your roof with no racking system or roof punctures. This is especially important if puncturing the roof membrane will void your manufacturer's warranty.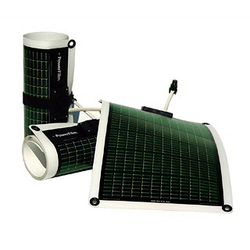 The second benefit of roll up panels is that they are lightweight. They weigh 0.5 to 1.0 pounds per square foot compared with crystalline solar panels that weigh 2.0 to 3.0 pounds per square foot.
This can come in handy if your rooftop has a low weight tolerance or if you need to keep snow load in mind.
Here are two companies that manufacture rooftop roll up solar panels and some of their products:
Global Solar – This company produces PowerFLEX BIPV, a line of flexible CIGS solar cells available in 250, 275, and 300 Watt models.

Uni-Solar – Commercial products from Uni-Solar include PowerBond which is available in 68, 136, and 144 Watt varieties.
Now let's take a look at the portable roll up panels that can keep your gadgets full of juice.
There is quite a wide range of power outputs available with rollable solar panels. From 4.5 Watts to 28 Watts, there should be a portable panel that packs enough punch for your charging needs.
A good rule of thumb is that you should go with a larger panel than you think you might need. The reason for this is that when limited sunlight and solar panel efficiency are factored into the equation, charging your iPhone might take a lot longer than you had anticipated.
Here are a few companies that make roll up solar panels and a list of some of the products they offer:
Sunsei Flex – SF-600 (7 watts), SF-1200 (14 watts)

SolarRoll by Brunton – SolarRoll 4.5 (4.5 watts), SolarRoll 9 (9 watts), SolarRoll 14 (14 watts)

PowerFilm – PowerFilm R-7, PowerFilm R-14, PowerFilm R-21, PowerFilm R-28
That should get you started on your noble quest for rollable solar power.