A folding solar panel is a great way to take the power of the sun wherever you go.
Folding panels are lightweight and compact and they come in a power range that should meet any of your portable solar needs.
When you get to your destination just unfold the panel on the ground or any other surface and you have an instant mini power plant fueled by the sun's glorious rays.
(If you don't like folding and would rather roll, check out our page on flexible solar panels.)
Foldable panels are great for camping, boating, and RVing and they are perfect for keeping your gadgets charged while you're hiking or just relaxing at the beach.
Smaller folding panels include the PowerFilm F15-300. This 5 Watt panel will fit into your pocket and weighs only 6 oz. It's perfect for charging cell phones, MP3 players, PDA's, and other small devices.
It comes with a 12V Female Cigarette Lighter Adapter and a 15 foot extension cable.
For a little more power there is the Solaris 12. This 12 Watt array uses efficient CIGS panels and can fold up to fit in your glove box.
Use the Solaris 12 to recharge your MP3 player, cell phone, or portable game console or even trickle charge your car, motorhome, boat, or snowmobile battery.
The Solaris unit includes storage sack and female cigarette lighter adapter, plus multilinking and battery clamp cables.
Need some serious power?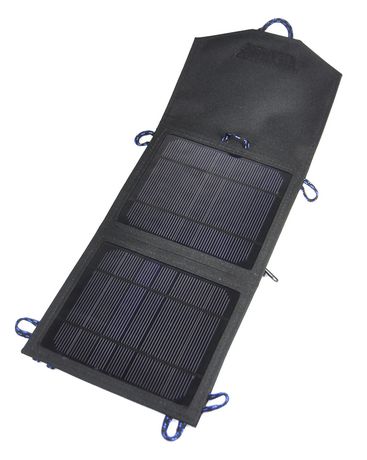 In the power range of a traditional solar panel we have the P3 62 Watt folding solar panel by Global Solar (the P3 stands for "Portable Power Pack").
The folded dimensions of the P3 62 Watt are 14.5″ by 8.5″ with a thickness of 1.4″. Unfolded the unit measures 52.5″ by 30.0″ with a thickness of 0.1″.
This unit weighs only 3.1 pounds and comes with a cable set and a charge controller that will let you know when a battery is fully charged.
The P3 can power a laptop, communication equipment and mobile electronics and is also used worldwide to charge lead-acid, Nickel Cadmium (NiCd), Nickel-Metal-Hydride (NiMH) and Lithium Ion rechargeable batteries.
Here are some folding solar panel makes and models to check out:
PowerFilm

PowerFilm F15-300 (5 Watts)
PowerFilm F15-600 (10 Watts)
PowerFilm F15-1800 (20 Watts)
PowerFilm F15-1200 (30 Watts)
PowerFilm F15-3600 (60 Watts)



Global Solar

Sunlinq 6.5 Watt
Sunlinq 12 Watt
Sunlinq 25 Watt
P3 30 Watt
P3 62 Watt



SunForce

6.5 Watt Folding Panel
12 Watt Folding Panel
25 Watt Folding Panel



Brunton

Solaris 6
Solaris 12
Solaris 26
Solaris 52
If you're hoping to charge your iPad with a folding panel you might want to check out the Quickertek 10 Watt solar panel.
This amorphous silicon fold-up panel weighs less than a pound and the manufacturer claims that it will charge your iPad, iPad 2, iPhone, and iPod. Be aware, however, that solar charging times can be lengthier than you might expect and that this folding solar panel will set you back around $300.