A flexible solar panel makes it easy to take solar power with you wherever you go.
Just roll it up like a poster and bring it along if you're heading to the beach, camping, boating, or RVing.
(If you don't like rolling things and would rather do some folding, check out our page on folding solar panels.)
Traditional solar panels are an incredible invention and a great source of power but they're not very portable.
Roll up solar panels stay portable by using thin-film solar panel technologies like amorphous silicon or CIGS.
These panels are less efficient than traditional solar panels but they are also:
Lightweight
Cheaper
More efficient in cloudy or hot conditions
In other words: They are perfect for portable power to recharge your gadgets or keep your battery topped up.
While camping, just unroll your panel in a sunny spot or throw it over your tent and keep your ipod, cell phone, or laptop charged and ready to go.
If you're boating you can unroll a flexible panel on the deck or even wrap it around a mast and keep your battery charged. The panels can be fastened by their corner grommets, or secured with double-faced tape or Velcro strips.
The power available in a rollable panel ranges from 4.5 watts to 28 watts. The smaller panels are great for ipods and cell phones while the larger units can power your laptop or keep your marine battery charged.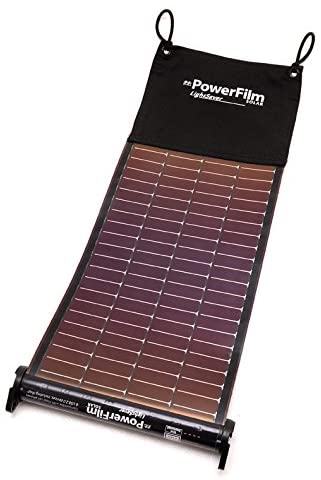 Most of these roll up panels are waterproof and very durable but check the specs to make sure they will meet your specific needs.
Here are a few flexible solar panel makes and models:
SolarRoll by Brunton

SolarRoll 4.5 (4.5 watts) – Great for charging small electronics like cell phones and PDA's
SolarRoll 9 (9 watts) – Perfect for running cell phones and charging digital and video cameras
SolarRoll 14 (14 watts) – Great for running satellite phones and charging laptops
PowerFilm

PowerFilm R-7
PowerFilm R-14
PowerFilm R-21
PowerFilm R-28
Sunsei Flex

SF-600 (7 watts)
SF-1200 (14 watts)
Another kind of flexible solar power technology was recently developed at the University of California Los Angeles (UCLA) and the University of California Santa Barbara (UCSB).
This new flexible solar panel material is plastic and transparent and could be used to transform an ordinary window into a mini solar power plant.
These new flexible solar cells are noteworthy because they seem to have struck a perfect balance between solar efficiency and transparency.
Until this point "solar windows" weren't very easy to see through and, as you might guess, a window that you can't see through isn't much of a window.
If this new version of flexible solar can be mass produced it could mean that windows everywhere will soon be creating solar power while they let the light of the sun into our homes, workplaces, and vehicles.
This is yet another exciting possibility for the future of solar power and the flexible solar panel.