SunPower solar panels definitely have good looks on their side.
These all-black panels do "blend in beautifully with your home's rooftop" (as it says on the SunPower website).
So, the SunPower panels look good, what else can we say?
Well, SunPower was founded in 1985 by Stanford professor Richard Swanson.
They are now an industry leader that makes the most efficient solar cells on the market.
Sandia National Laboratories rated the newly-released SunPower 315 watt solar panel at 321.65 watts, giving the panel an efficiency of 19.7 percent.
That's the highest ever for a commercially available, mass produced solar panel.
Higher efficiency is good news for SunPower customers since it reduces system installation and sales costs, as more power can be generated with fewer SunPower panels.
Sounds like SunPower might be a good choice!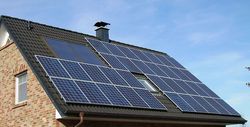 Here are some of the important stats for SunPower solar panels:
Note: If you want to know more about what these stats mean check out solar panel info (it will open in a new window so you can go back and forth).
Now, onto the stats…
Rated Power at STC (Standard Test Conditions)
This will be the "advertised" wattage of the panel you're looking at (e.g. 180 watt or 205 watt).
Rated Power Tolerance (%)
+/-5%
Rated Power Per Sq. Ft. (Watts)
SPR-210-BLK – 15.7
SPR-215-WHT – 16.1
SPR-225-BLK – 16.8
SPR-230-WHT – 17.2
SPR-305-WHT – 17.4
Module Efficiency (%)
SPR-210-BLK – 16.9
SPR-215-WHT – 17.3
SPR-225-BLK – 18.1
SPR-230-WHT – 18.5
SPR-305-WHT – 18.7
Materials Warranty (Years)
10
Power Warranty (Years)
25
Cell Type
Monocrystalline
Maximum Power Temperature Coefficient
(% per °C)
-0.38