SolarCity might be a great choice if you're looking for a solar company.
This California-based company was only founded in 2006 but it has been growing quickly. It is now one of the largest residential solar installers around.
The company refers to itself as a "full-service solar provider" because it offers financing, design, and installation all under one roof.
Although SolarCity is only currently serving Arizona, California, Colorado and Oregon, there are plans to expand to up to 10 additional states in 2010.
SolarCity has stood out in a very competitive solar market in part because of their SolarLease program.
This program allows customers to lease a solar electric system for no money down.
This is a pretty big deal because the initial upfront cost has always been the main obstacle keeping people from taking advantage of solar power.
So how does the SolarLease program work?
Instead of having to pay thousands of dollars up front for your solar panel system, you can pay zero down with a monthly lease payment instead.
Not only does this make it possible to go solar without having thousands of dollars in the bank, but you can also start saving on your electric bill from day one.
This is because the cost of your solar lease plus the cost of your reduced electric bill are usually less than the cost of your old electric bill.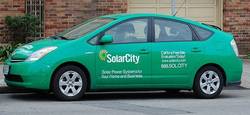 As an example, say you had a $100 monthly electric bill. Then you joined the SolarLease program and had a monthly lease cost of $30 and a reduced electric bill of $50. Now instead of paying $100 a month for electricity, you are paying $80 ($30 + $50). That saves you $20 per month or $240 per year. And you didn't have to pay a cent!
Besides not costing any money up front, the solar leasing program also takes any maintenance or performance issues out of your hands.
Since SolarCity officially owns and operates the solar panels on your roof, the company is responsible for any necessary repairs. Not much goes wrong with solar panels but not having to pay for a worn out solar power inverter is a big bonus.
Also, the performance of your solar electric system will be monitored to ensure it is providing all the power it should be. If your system stops running smoothly for any reason you will be notified.
That all sounds well and good, you say, but what about if you want to move to a new home?
In the event of a move you can transfer the lease to the new home owner or prepay the lease and add it to the cost of your home.
Are you now wondering what happens to the solar panels on your roof when the lease term comes to a close?
Well, you have a few options there. You can upgrade or extend your lease if you want the solar party to continue. You can also decide to have the panels removed at no cost to you.
So it seems that SolarCity has done a pretty good job of making solar power a 'no-brainer'. Check them out if they currently serve your area.