Solar yard lights allow almost anyone to harness the power of the sun.
They're an inexpensive way to get started with solar power and improve your backyard or deck at the same time.
Before we get into the kinds of solar lights available, let's answer a more important question:
Why should you use solar outdoor lights?
Well, how's this for starters:
No need to turn them on and off
Oh yes, and of course it's good for the environment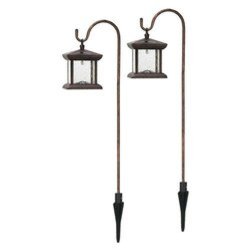 So, solar lights save you money since you don't have to pay for electricians or electricity, they are convenient because they turn themselves on and off, and on top of it all they will make you a card-carrying planet saver.
"Wow," you say. "Where can I get me some of these solar lights?"
Just hold your horses, let's take a look at some of the varieties of solar lights that are available:
One of the most common variety of solar yard light is an accent light attached to a spike which can be stuck into the ground. These are great for flower beds and pathways.
Another light that may suit your needs is the "lantern-style" solar light. These add a classy touch and come with a hook that the lantern hangs from.
Also, be sure to check out a solar lamp post for your patio or pool.
And if you want to dress up your fence or deck, try capping your fence posts with a solar post light.
If you're looking to add an Asian touch to your yard, check out a Solar Shoji Lantern.
And you can't go wrong with a fluted black solar accent light
Or if you want solar lighting that will bring you a little serenity, check out the Sitting Buddha Sculpture Solar LED Sculpture.
That should be enough solar lighting ideas to keep you busy for a while.
Have fun!