Solar window screens can be a great investment.
Solar screens can save you 50% on your cooling bills by blocking the heat of the sun from entering your home.
They are mounted on the outside of your window and not inside like solar window shades or solar curtains.
Sun screens appear darker than a regular window screen from outside but they don't obstruct the view from inside your home.
By dissipating the sun's heat before it reaches the window, solar window screens can actually keep your house much cooler than blinds or curtains.
Why is this?
Well, once the sunlight enters a window it is absorbed and transformed into heat energy.
This heat energy gets trapped inside and before too long your house feels like a solar oven.
Solar screens absorb the sun's rays and dissipate up to 90% of the heat, glare, and UV rays before they reach the window. Therefore those rays can never enter your home and become trapped as heat energy.
There are different brands of solar screens and
different installation methods available.
The Coolaroo Window Shade blocks up to 90% of the sun's UV rays and can be used on exterior windows or to enclose your porch. It comes with tiedowns, installation hardware and simple instructions.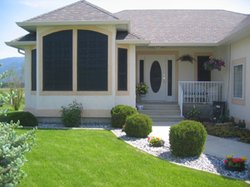 There is also Sun Tex 80% Shadecloth. Sun Tex Shadecloth can replace regular insect screen or can be stapled to a wooden frame to block up to either 80% or 90% of the sun's rays.
Sunblox Solar Screens of Florida makes custom sun screens from roll-formed frame and Phifer Suntex fabric.
These screens fit your entire window opening and their installed cost is approximately $7.50 per square foot or about $105 per window.
Sunblox uses various attachment methods depending on the type of windows and the construction of your house. These methods include Industrial 3M Velcro, Brick Clips, Thumb Clips, and self-tapping screws.
A company called EZ Snap provides you with solar screen and the "snaps" to attach the screen but you have to do the work.
Here's what you have to do:
Measure and cut the fabric
Place the EZ Snap studs and pins
Put the fabric over the pins
Place the EZ Snap caps overtop
That doesn't sound too bad, does it?
An EZ Snap kit consisting of a 5′ by 6′ fabric, 25 caps, 25 pins, and 25 studs costs $65. There are larger kits available and North American shipping is free for orders $225 and over. They also have skylight sun screens ranging from $45 to $130.
Solar window screens are a very cost effective way to keep your house cool while not obstructing your view of the great outdoors. Check them out and see if they'll work for you.