Solar water fountains are a great way to go solar on a smaller scale.
Why is that, you ask?
Well for one thing, you don't have to worry about wiring or extension cords running through your backyard. The idea of a nice peaceful fountain doesn't seem so peaceful if it means fifty feet of extension cord running through the yard.
Also, since a fountain pump runs on DC electricity it's a great match for a solar panel. If you don't know all about AC and DC that's okay. All you need to know is that solar panels make DC electricity and if we have a pump that runs on DC we don't have to worry about changing the current with an inverter.
Another benefit of a solar water fountain is the fact that you don't need to use any electricity. With a solar panel providing the fountain's energy needs you're saved from adding another gadget to the grid.
Also, the solar panel can usually be located 10 to 15 feet away from the fountain so you can find a sunny spot or mount it on a wall.
Wow, these solar fountains sound really amazing! There must be a downside.
Well, the main disadvantage of a solar powered fountain is that it only works in the sun (not really shocking, I know). Since the fountains don't have power storage they will stop at night and slow down on overcast days.
Other than that, a solar fountain is a great way to add some ambiance to your yard. There are a huge variety of different styles available and the prices range from $50 to several hundred dollars.
Here are a couple of additional ways to add some solar style to your yard:
A solar island fountain is a floating fountain that spouts water up to 17 inches high and helps to aerate your pond.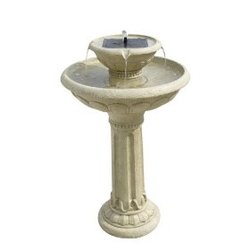 A Solar Birdbath Fountain is a good way to keep the birds clean while you listen to the relaxing sound of trickling water. You can even find models made with 50% recycled copper.
So get creative and you'll find there are a lot of simple solar solutions to your outdoor conundrums.