Your choice of solar training will play an important role in your solar career.
Some schools offer solar energy courses that will put you on the fast track to success as a solar installer, photovoltaic designer, or other solar specialist. These schools will provide you with a good return on your investment of time and money.
Unfortunately there are also solar energy training providers that won't give you the skills you need. These unsavory organizations are more interested in separating you from your money than helping you achieve success in the solar industry.
Being able to tell the difference between the worthwhile courses and the duds is an important step in your solar education.
Before worrying about that, however, there is a question you should ask yourself:
What do I hope to get out of my solar training?
Before you know the answer to this, it will be difficult to decide which training will suit you best.
Are you looking to get work as a solar installer? Do you want to start your own solar business?
You should also be realistic with your current situation. Are you prepared to make a long-term commitment to your training? Will you have to schedule classes around your day job? What sort of debt are you willing to take on?
Knowing what you're looking for and what will fit your schedule will help you to judge the suitability of the different solar training options available.
For our purposes, let's assume that you're interested in learning more about becoming a solar installer. Let's also assume that you have no experience with installing solar panels. What are your options?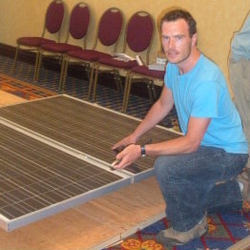 A good first step is to get as informed as possible about solar power and how it works. You can do this by finding a good solar website or making a trip to your local library and checking out any books on solar energy.
Once you've done this, why not get some first hand information about solar job prospects in your area. This can be as simple as making a few phone calls to area installers, explaining that you are interested in getting into the solar industry, and asking a few questions:
Are you planning to hire any new installers?
Has business been increasing?
Would you recommend getting into the industry?
Keep in mind that installers are generally very busy people who might not be able to chat for too long. Be respectful of their time and, in my experience, solar installers will be happy to help out someone who shares their passion for solar energy.
If you've already educated yourself on the basics of solar energy and done enough of an initial labor market study to know that you would like to pursue a career in solar, it's time to move on to Step #2: Finding the right solar training course for you.
There are a few options here, depending on the time and money you're willing to invest in your training. You can go with a 1-3 day workshop, a more intensive week long training session, or full-time solar school for a year or more.
The one to three day workshops are a good way to get your feet wet and get some hands on experience with solar panels, inverters, and wiring. You'll probably also be able to hear some 'war stories' from your instructor about the ups and downs of the solar business.
Be sure to ask a lot of questions and take advantage of any one-on-one time you can get with an instructor (e.g. at lunch or on breaks).
There is quite a price range for solar workshops but you can typically expect to pay anywhere from $300 to $1000. Two of the training providers that offer 1-3 day workshops are Ontility and DC Power Systems (where I received training).
If you step up to a more intensive week-long solar training program, you'll receive more in depth solar information. On top of the basic work with panels, inverters, and wiring, you should get a crash course in site analysis, system sizing, mounting, and off-grid systems.
Five day solar courses typically cost anywhere from $1500 to $3000. Solar Energy International and Boots on the Roof are two training providers that offer this option.
If you are able to commit to the cost and time involved in long term solar schooling, you will probably receive well-rounded training that covers all the bases and fully prepares you for a life of installing solar panels. Just be sure you have a good chance at a job after graduation so you can start paying back those student loans!
Check out Sierra College, San Juan College, or St. Lawrence College (in Canada) for examples of solar energy technician programs at the post secondary level.
Whether you choose a workshop, a week-long course, or a college program in photovoltaics, you should make sure that your instructor has real experience in the solar industry.
Also, talk to anyone you can who has already taken the course you are interested in. This is a great way to get past the sales pitch and find out if the course will really get you a job.
With more organizations than ever offering solar training, there is no reason to choose a course that doesn't offer everything you need.