Solar shingles are pretty much exactly what they sound like:
Shingles that also act as solar panels.
If you like more complicated names, they are also known as building-integrated photovoltaics (BIPVs).
They make sense because your roof is up there basking in the sun all day anyway, so why not put it to work making some electricity.
These shingles use thin-film photovoltaic technology in order to blend right in with traditional roofing.
They come in various sizes and colors and interlock just like regular shingles.
These sun-powered shingles have inactive areas where the roofer can drive nails and not short out any circuits.
They are then wired together under the surface of the roof.
The warranty on these shingles is usually five years but they have an expected life span of over twenty years.
What are the benefits?
Appearance (no more bulky solar panels for you!)
Durability (80mph wind proof)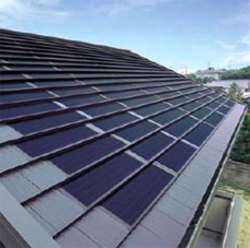 As for drawbacks, they are a little more expensive than traditional solar panels (about $12-$13 per installed watt instead of about $10).
Also, if the angle of your roof isn't ideal for soaking up the sun's rays, a traditional solar panel can adjust but the shingles can't.
Some of the solar shingles currently available are:
Sunslates by Atlantis Energy Systems Sunslates are a PV shingle on a fiber-cement backing that can be incorporated into a concrete tile, metal, slate, wood shake, or composition roof.
PV Roof Integrated Modules by GE Energy This offering by GE is designed to integrate with flat concrete-tile roofs and comes with a 20 year warranty.
Roof-Integrated Modules by Sharp These are designed to replace five standard flat cement tiles and come with a limited power warranty of 25 years.
SunTile by SunPower SunTiles work with flat or S-tile concrete roofs. They are highly efficient due to a design which keeps the electrical contacts on the back of the tile. This allows more sun to reach the front of the tile, producing more power.
SolarSave by Suntech These roofing tiles also work with flat or S-tile roofs and have a limited power warranty of 25 years.
Solé Power Tile™ SRS Energy and US Tile have combined the look of clay roof tiles with the latest in solar technology. These are currently only available in select west coast markets.
All of these shingles represent a solar technology that is available now but improving quickly. Expect prices to come down also, as this relatively new technology gets a little experience under its belt.