A solar refrigerator sounds great, but what exactly is it?
Well, a solar power fridge usually means one of two things:
A high efficiency fridge that runs on DC power
A fridge that runs on propane
An important fact to remember when going solar is that energy production costs more than energy conservation.
In other words: Your first step should always be minimizing your electricity use.
A High Efficiency DC Refrigerator can cut down your power consumption so you'll be able to install a smaller solar system and save money.
Since many off-grid homes do not use electrical power for heating and cooking, the refrigerator can be the biggest pv power hog in the house.
Therefore, minimizing this electrical load can make a big difference to your bottom line.
DC solar fridges allow you to use the DC electricity that your solar panels produce.
This means you don't have to convert the electricity to the AC (alternating current) that most fridges run on and face an inverter efficiency loss of up to 15%.
Some of these solar refrigerators are also "chest-style". Since cooler air sinks, a chest-style refrigerator doesn't let as much cool air escape when opened.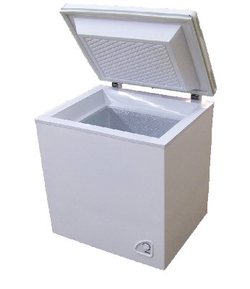 These refrigerators are also super-insulated and use brushless compressors for increased efficiency.
Here are the two main brands of solar refrigerators and their product lines:
Sundanzer
– DCR50 – 1.8 cu.ft (50 Liters), MSRP $699
– DCR165 – 5.8 cu.ft (165 Liters), MSRP $1149
– DCR225 – 8.1 cu.ft. (225 Liters), MSRP $1249
SunFrost
– Sun Frost RF19 – refrigerator/freezer unit
– Sun Frost R19 – a refrigerator-only model with two equal-sized refrigerator sections. No defrosting is necessary and it incorporates a passive (no fans) cooling system.
– Sun Frost RF16 – full-size refrigerator with two independent cooling systems. One compartment may be left running while the other is shut off.
– Sun Frost RF12 – a single compressor refrigerator freezer with a passive (no fans) cooling system.
– Sun Frost R10 – the same width & depth as the larger models but shorter
– Sun Frost RF4 – a refrigerator with an ice tray freezer section
– Sun Frost R4 – a refrigerator-only unit
– Sun Frost RFVB – a vaccine storage refrigerator used mostly in developing countries
A Propane Refrigerator doesn't run on electricity at all, it runs on (you guessed it) propane.
It may seem a little backward to be cooling your food by burning propane gas, but it's actually quite an efficient method of refrigeration.
The chemistry of it gets a little complicated (i.e. I don't really understand it) but it goes something like this:
Ammonia is combined with water
The ammonia turns to steam and then back into liquid and is comined with hydrogen gas
The ammonia now evaporates into a freezing vapor and is pushed through cooling coils
The ammonia combines with the water and the cycle repeats all over again
There, now you have an interesting solar refrigerator story for your next dinner party.
What advantages does a propane refrigerator have over its DC counterpart?
It requires very little maintenance because there are no moving parts
It won't be drawing any power from your solar electric system
But don't forget that propane isn't free (in fact it's getting pretty expensive).
Whether you should go with DC or propane for your solar power fridge depends on your situation:
How much are your panels going to cost?
Do you have space for sufficient solar panels to run a fridge?
Will it be easy to get propane refills at your location?
You're going to have to crunch some numbers and compare cost, maintenance requirements, and convenience and see which cooling system best suits your needs.
Here are some propane solar power refrigerator brands and models to check out:
Crystal Cold

CC12 – 12 Cu. Ft.
CC15 – 15 Cu. Ft.
CC18 – 18 Cu. Ft.

Diamond

Features models ranging from 10 Cu. Ft. to 19 Cu. Ft.

Danby
EZ-Freeze
Dometic

New Dimensions
Sidewise
Americana
Classic
Compact
RC4000 Portable

Consul
That should give you a good start in your brave and noble quest for a solar power fridge. Best of luck!