IKEA has recently added solar powered lights to their lineup.
The lights have the modern style and minimalist simplicity that we've come to expect from the Swedish retailer's offerings.
Are you wondering why solar powered lights at IKEA are a big deal?
Well, apart from showing how mainstream solar power is becoming, IKEA's solar lights might just be the start of something much bigger for the home furnishings giant.
There have been rumors for some time about IKEA developing solar panels to sell at their stores. Could this make solar power more affordable than ever?
Also, what about IKEA's BoKlok line of pre-fab homes? Will they be coming to North America any time soon?
SolarPowerBeginner wanted some answers to these and other questions so we contacted IKEA Sustainability Manager Natalia Hahn to get to the bottom of things.
From solar powered lights to solar panels for our homes, let's see what plans IKEA has in store.
SolarPowerBeginner: IKEA has recently introduced a selection of solar powered lights including post lights, stakes, and lanterns. How did IKEA decide to "go solar"?
Natalia Hahn: Having a positive impact on people and the environment is the cornerstone of the IKEA sustainability program.
Offering solar powered, energy efficient bulbs and LED lights are all part of showing customers that they still can live a sustainable life at home with stylish products and design at affordable prices.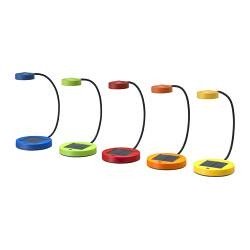 SolarPowerBeginner: Internationally, IKEA is known for products that offer style and quality at affordable prices. How did you ensure that your solar line kept with this tradition?
Natalia Hahn: IKEA designers are constantly challenged to work on developing products that have little impact on the environment. Our lighting range and in particular our solar range of products are no different.
Given that lighting accounts for almost 25 percent of the electricity consumption in the home, IKEA believes we can offer environmentally friendly products that help our customers save money at home.
SolarPowerBeginner: Could you tell us a little about the SUNNAN work lamp and how it stays charged?
Natalia Hahn: The SUNNAN work lamp is a new addition to our product range that uses solar energy to generate light.
Solar cells transform sunlight into electrical energy, which means no electrical connections are required. The diode life cycle is approximately 50,000 hours. Recharging time is 9-12 hours in sunlight.
IKEA also recently announced that for every SUNNAN lamp sold worldwide, we would donate one lamp to UNICEF to light up the life of a child.
The first shipments were destined for Pakistan to help children in refugee camps and remote villages in Balochistan and the North West Frontier province.
IKEA has made an especially sturdy SUNNAN for the developing world, designed to resist the wear and tear of difficult living situations. This unit will enable children to play, read, write and study in the evenings, even if their homes have no electricity.
SolarPowerBeginner: Last year IKEA announced that it was investing in clean tech startup companies with the eventual goal of seeing various clean technologies on IKEA shelves. Are solar panels at IKEA a possibility in the near future?
Natalia Hahn: IKEA GreenTech is a global initiative that was announced a little over a year ago.
IKEA GreenTech is an investment company, which aims to bring good and affordable environmental products to the many people so that they can reduce their CO2 emissions and water usage while also reducing their energy and water costs.
IKEA GreenTech plans to focus on five areas – solar panels, lighting, raw materials, energy efficiency and water saving. The objective is to invest in innovative companies that have the potential to develop products which can be sold by IKEA and/or used by IKEA and its suppliers.
SolarPowerBeginner: IKEA pioneered the BoKlok concept of pre-fab homes utilizing renewable energy in Sweden and later introduced the idea to Britain. Any word on BoKlok coming to North America?
Natalia Hahn: At this time there are no plans to introduce BoKlok pre-fabricated housing to Canada. The BoKlok concept was developed in Sweden where there was a demand for new, affordable housing.
Our situation in Canada is different and there is not a high a demand for pre-fabricated housing. IKEA Canada has decided this is not a priority for our market at this time.
SolarPowerBeginner: Are there any more solar power plans in IKEA's future?
Natalia Hahn: Although IKEA is working with various solar installations, IKEA Canada is currently working on one project and is planning to install solar hot water heating panels on the roof of the Montreal store.
This will reduce the amount of natural gas used to heat our water for the store's use. IKEA Canada is always looking at new ways to run our 11 stores efficiently.