A solar power trailer could work for you in a lot of situations.
Maybe you don't have an RV but you're looking to take your camping to a whole new level of comfort (who wants to "rough it" anyway?).
Or maybe you're having a wedding in a big white tent out in a beautiful meadow and you could use some noise-free power for some lights and a karaoke machine.
Or maybe you're doing some handyman work at the off-grid cottage and you need power for your Skill saw and drill.
If these reasons, or any similar ones, apply to you, you might want to check out a solar trailer.
These trailers come in a variety of sizes and power and you can probably find one to suit your needs.
The great thing about going solar for your power is that you won't have to worry about the noise and fumes of a gas generator.
What most of these portable solar units have in common is:
A trailer that a pick-up or SUV can easily tow
A quick setup
Solar panels offering between 180 Watts and 1.6 kW of power
Battery storage
An inverter
How much will one of these beauties set you back? Well, that all depends on the power you need, of course, but I was impressed by the affordable rental rates available.
In Canada, the Canadian Solar Industries Association has a 220 watt solar trailer available and charges $350 for a five day period.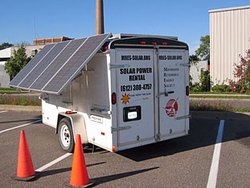 The Minnesota Renewable Energy Society offers a 1.6 kW solar trailer (pictured) for $150/day.
A Google search should provide you with similar rates in your area.
Also, most solar trailers are available at a lower rate for non-profit organizations.
For more info, check out the SolarPowerBeginner solar trailer interview with expert Jason Szumlanski.