Keeping up to date on all the latest solar power news can be difficult.
But that's a good thing.
It means that solar power has entered the mainstream (that's why there's so much news about it).
A lot of the available solar power information focuses on government programs and legislation.
From Germany and Spain to Canada and the United States, more countries than ever are offering solar rebates and incentives to people who put solar panels on their roof.
This kind of solar news can help you decide whether solar panels are economically feasible in your neck of the woods. Unfortunately, without any sort of government incentives solar panels can be prohibitively expensive.
is no harm in imagining the amazing things that solar power could do in the future, as long as we don't forget about the amazing things it can do right now!
Another kind of solar power news that is pretty popular is the "solar gadget" variety. These stories feature all the latest technological contraptions that run on the power of the sun.
These stories feature things like solar-powered fans for your baseball cap, solar toy cars and robots, solar remote controls, solar iPhone chargers, and solar-powered bikinis (see the picture above).
This kind of solar news is great when you're interested in checking out some cool solar applications that won't break the bank.
Google Alerts is a cool way to keep up to date on any solar power topic you choose. Just go here and enter the topic you would like to monitor and you'll get updates by email everyday.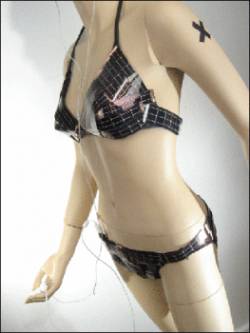 Many major newspapers also have specific sections that deal with the latest developments in green energy. Check out the New York Times' Green Inc. Blog for a great example of this.
I've also added a Google news feed of current solar power stories below.
After all, these days you'll need all the help you can get to keep up with the latest solar power news.
To get you started, here are a few solar news feeds you might be interested in:
Solar Power World:
Solar Industry Magazine:
ReVision Energy:
RSS Error: A feed could not be found at `https://www.revisionenergy.com/blog/feed/`; the status code is `200` and content-type is `text/html; charset=UTF-8`
Solar Daily:
Solar WakeUp: