Solar power kits are a great way to take advantage of solar power.
A solar kit might work for you if you're not ready to invest in a full-scale solar array but you need power for your basic needs in a cottage, boat, or rv.
It is also a great way of getting a simplified start on powering your home with the energy of the sun.
Some of the 'plug and play' models of solar energy kits available today make it possible to avoid wiring hassles all together.
Another advantage of having no permanent wiring involved is that it makes your solar power setup a lot more portable.
If you decide to head out in the rv or take off for a weekend at the cottage, your solar kit can make the trip too.
This will help you get your money's worth by putting the sun to work wherever you go.
When you decide to purchase 'solar power in a box', your solar panel kit will include at least some of the following:
Solar panels
Inverter
Charge controller
Batteries
Fuses
The price and power range for ready-to-go solar kits is huge.
You can get a basic 85 watt system for under $1000 which will power the basics of your rv or cabin.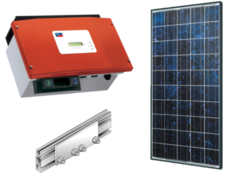 From this starting point you can work your way up to systems like the ReadySolar – Solar in a Box.
These standardized systems range from 500 Watts to 2 Kilowatts.
The Solar in a Box system features modules that
are pre-wired and grounded to NEC code.
It also has pre-installed Enphase micro-inverters so there is no need for inverter installation or DC wiring.
The main advantage of some solar kits is their "plug and play" nature. Though a larger system will still require professional installation, the system should be ready to go "out of the box" without any worry about the components being compatible.
The Plug N Play 250w Grid-Tied Solar Power Kit features an inverter that can plug right into a regular AC wall outlet.
This gives you the advantages of a grid-tied system without having to do any expensive rewiring.
Another advantage of these systems is that they are simple but effective.
The pre-packaged 1.9kW Grid-Tied Solar Electric System would take care of a good part of your electric bill.
These systems are designed for use on residential and small commercial buildings and they feature high quality Evergreen solar panels.
(OY Not Solar Power also features pre packaged kits for grid tie systems and grid tie with backup.)
Many kit systems are expandable so you can add more power in the future it it's required.
So think about a solar power kit if you're ready to try out solar power without a lot of calculating or you want to see some results before you invest in a full-scale solar system.