A solar power backpack is a pretty intriguing idea.
Go to any coffee shop and you'll see as many iPods and BlackBerrys as lattes. Many of these gadget owners get around town by bicycle or (gasp!) on their own two legs.
So how do they keep their trusty gizmos charged?
Well, one option is the power of their own backpack.
That's right, backpacks with built-in solar panels and battery packs give you the option of charging your iPod, BlackBerry, or cell phone on the go with the power of the sun.
These bags are available in quite a few styles and the prices range between $100 and $500.
Why the big price range?
The lower range feature a 4 watt solar panel and a lithium-ion battery that will keep your iPod and cell phone fully juiced. But forget about charging your laptop with one of these babies.
At the upper end of the price range is the Generator by Voltaic Systems. This bruiser features a single solar panel that provides 14.7 watts of power.
It's the only bag around that can power up your laptop.
And it'll cost you.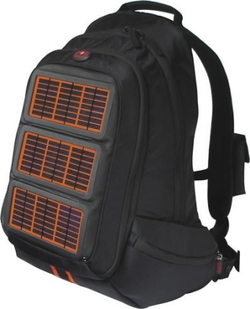 Most of the backpacks and bags come with a variety of adapters to suit your needs.
Also, be ready for curious onlookers to ask some questions about your wondrous new toy.
Here are the major solar backpack makers and some of their products:
Voltaic Systems
Converter Solar Backpack ($129)
Offgrid Solar Backpack ($199)
Eclipse Solar Gear
The Reactor ($100 – $160)
Solar Messenger Bag ($115 – $200)
Solar Camera Bag ($100 – $150)
Reware
Juice Bag ES100 Backpack ($275.00)
Juice Bag ES200 Daypack ($249.99)
Juice Bag ES300 Messenger ($249.99)
Bag ProFolio ($349.99 – Introductory Price)