A solar post light adds brightness and style to a deck or backyard fence.
The idea is pretty simple: these solar fence post lights fit over a 4″ by 4″ fence post and attach with a couple of screws (models are also available for 5″ by 5″ and 6″ by 6″ posts).
No wiring and no electrician necessary. What could be easier?
One warning: These solar powered fence post lights can add mood lighting and style but don't expect them to light up a nighttime baseball game. They do have their limits.
Most of these solar fence post caps will include:
Photocell control (turns on and off automatically)
Two to four LED lights
A rechargeable AA battery
An amorphous silicon solar panel
Screws to attach the solar light
The style of a solar post light varies between brand and model.
The main choice you will have is whether to go with plastic, aluminum, bronze, copper, or stainless steel. They all get the job done so go with whichever suits your style and budget.
Speaking of budget, are you wondering how much these things cost? Well, actually there is quite a range.
You can pick up a solar post cap for around ten bucks but you can also spend fifty dollars on a "Tiffany-style" stained glass model (no, I'm not kidding). You can even spend more if you're so inclined.
Your main advantages in spending more are style and brightness (i.e. more LED lights per post cap). Again, go with whatever suits your needs.
Popular models of these outdoor solar lights include: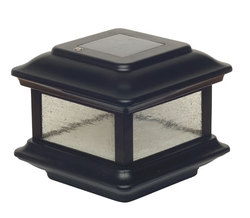 If you don't have a deck post but you would still like to add one of these solar fence post lights, you're in luck. You can now purchase 'flat mount adapters' that allow you to mount a post light on any flat surface.
Looking for ideas?
Check out the Colonial Black Solar Powered Outdoor 4×4 Post Light.
Or, if you need something in white, check out the Imperial White Solar Powered Outdoor Post Light.
Or go for the pointier styling of 'LED Pyramid' solar fence post caps.
(All three of these options are pictured above.)
As you can see, when it comes to solar lights for fence posts, there is no shortage of options for lighting up with the power of the sun.