A solar phone charger is the perfect modern day use for solar power.
Think about it…
We all take our cell phone everywhere we go but how do we keep our little appendage of the information age functioning if we're not close to our home or car?
Well, now you can use the power of the sun to keep your little friend charged up wherever you go.
Whether you're sipping a latte on a coffee shop patio or camping in the wilds of northern Ontario, a solar charger can keep you connected to the people you love (and everyone else too).
There are two main kinds of solar charger:
Charger With Built-In Battery
Charger Without Built-In Battery (Just Solar Panels)
The advantage of having a built-in battery in your solar charger is that you get to charge it whenever the sun is shining and save that power for when you need it.
Very handy.
Many of the chargers also have the option of using a USB port, wall outlet, or car lighter to charge up the battery. This way you have a back-up power source whenever you need it.
If your charger doesn't have a built-in battery, you just plug the charger directly into your cell phone and make sure the solar panels are facing the sun. Since you can't store any power in the charger itself, it can't be used as a back up power source when there isn't any sun.
Let's take a look at the selection of solar phone chargers that are available:
Solio
Solio is one of the leading manufacturers of solar cell phone chargers. They also make some of the coolest looking chargers on the market.
They have four main models: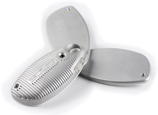 All of the Solio chargers have built-in lithium ion batteries that range from 1000 mAh to 1800 mAh. (In case you're wondering, mAh stands for Milliamp Hour and a higher value means the battery will last longer between charges.)
Brunton
This company manufactures a wide range of portable solar power products including folding solar panels and flexible solar panels.
The range of Brunton solar phone chargers includes:
Freedom Portable Power Device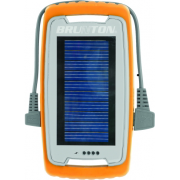 The Freedom can power up your cell phone, ipod, or digital camera. It includes a 2,200 mAh battery that can also be charged in your car or through a USB port.
Restore Portable Power Device

The Restore is similar to the Freedom but it features an additional 100 mA polycrystalline solar panel for extra charging power.
PowerTraveller
This company features a wide range of portable power solutions including a solar device called…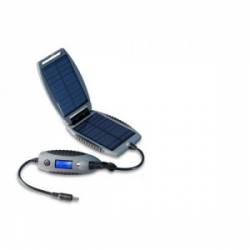 The SolarMonkey is a folding charging device featuring two solar panels. It does not have a built-in battery but can be purchased in a kit with the SolarNut that stores a charge for later use.
Well, there are a few solar charger ideas to get you started. If you're looking to get started with solar power, a solar cell charger might be a good first step.
It's small, affordable, cool, and useful.
What's not to like?