Do you want to know what I love about solar patio lights?
Have you ever been to a party and felt incredibly relaxed and at ease?
Maybe you chalked it up to the gracious host or the white wine spritzers.
But what if it was the lighting?
Before you dismiss the idea, I should let you know that it's not just me who is suggesting this.
A lot of science-talking people have done a lot of "sciency" stuff to show that lighting can cause "predetermined emotional responses".
In other words: It can make you feel certain ways.
What does this have to do with you?
Well, if you're planning an outdoor get together or dinner party, some solar patio lights can add just the right ambiance.
The right lighting can put your guests at ease and help them have a great time.
(And they'll probably chalk it up to your superior hosting skills).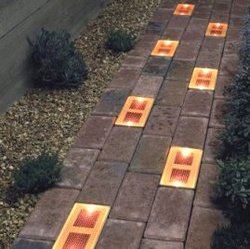 Even if you're not much of an entertainer, the right solar lighting on your deck or patio will enhance your own enjoyment and relaxation.
Why go solar with your patio lighting?
Well, for starters it's easy. No electricians, no wiring, just make sure the lights get sun during the day.
Also, you don't have to pay for more electricity since the lights are powered by the sun.
And of course you'll be a planet-saving hero as well.

Here are some solar light styles to check out for your patio:
An accent light attached to a spike that is stuck into the ground. These are great for pathways to and from your patio.
A few solar brick lights< (pictured) add a very cool effect to any walkway.
The "lantern-style" solar light. These add a classy touch and come with a hook that the lantern hangs from.
A solar lamp post for your patio or pool area.
A solar post light is becoming a popular way to add mood lighting to a deck or fence post.
A solar powered umbrella that stores power all day and then lights up your night.
Get creative and have some fun and you'll be an "ambiance expert" in no time.
That's what's so great about solar patio lights.
Need more solar lighting ideas?
How about an amber solar globe accent light?
Or a stylish fluted stainless steel solar accent light?
Or maybe a green glass orb?
There are so many a solar light styles available, you're sure to find one that suits your tastes.