Solar path lights may just be the perfect solar outdoor light.
They look great and they keep you from stepping off the path and walking into a tree or a nasty patch of poison ivy.
Beauty and safety: Who could ask for anything more?
The other advantage of these solar yard lights is that since they don't have to be too bright, they are easily powered by a small solar panel.
After all, you're not lighting a billboard, you're just adding ambiance and accenting steps or a path.
In reading the reviews of various solar path lights I found that many people were thankful for the peace of mind that these solar outdoor lights gave them.
After adding some strategic lighting these people were no longer worried that a guest would trip on their stairs or fall off their walkway.
And of course all the usual advantages of solar lights still apply:
No wiring or expensive electricians needed
No increase to your power bill
Easy installation
Now let's get to the fun part where we take a look at some of the cool varieties of solar path lights available:
Of course there are the traditional solar stake lights that are placed along a path or flower bed. These come with their own individual solar panels or in a string with a larger solar panel attached.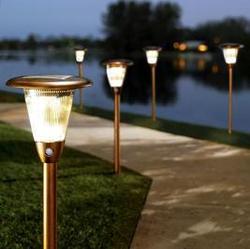 The advantage of the separate solar panel is being able to place the lights where they don't get sunshine during the day (just make sure the panel gets enough light).
You can also purchase flexible, tubular solar rope with clear LED lights inside. These rope lights can be shaped to outline a path, garden or walkway and produce a soft, relaxing glow.
Also, check out solar powered driveway markers with self adhesive pads or stakes to keep them in place. These lights can withstand 30 tons of pressure and will keep bad drivers from putting tire tracks across your beautifully manicured lawn.
Solar accent stepping stones are also a cool way to light up a path. These faux stones bring style to your yard all day and at nighttime they help you re-create the Billie Jean video.
How about the party atmosphere of a color-changing solar light? These babies gently flow through all the colors of the rainbow, all night long. Party!
A solar tiki torch is a great way to add a little tropical flair to your outdoor get-together. Going solar with your tiki means you won't have to worry about any burning oil getting spilled by someone who had one Mai Tai too many.
You can also check out solar torch lights, solar mushroom and ladybug lights, solar lantern lights, and solar garden glo yard lights.
I think it's safe to say that there are solar path lights to match any taste and budget.