Solar outdoor lights are the perfect way to get started with solar power.
They're inexpensive, they're good for the environment, and with the range of solar lighting available, there are few reasons left to be running electrical wire into your yard.
Think about it: If you can save time, money, and the environment with a choice that works for you, why not go green at home?
Let's take a look at some of the ways you can brighten up your night with the power of the sun:
These are stylish and functional. A couple of these beauties at the end of your driveway really adds a touch of class. Other great spots for a sun powered lamp post are the deck and the pool.
Some of these posts are weighted for stability and others have to be fastened into the ground. Heights range from four to eleven feet.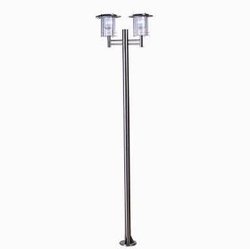 This is a great addition to the solar light family. It can light any shed or outbuilding without the need for expensive wiring.
The unit comes with a solar panel that is mounted outside and a separate shed light for inside the building. You won't have any more trouble putting away the lawn chairs when it starts to rain at night.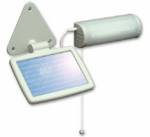 Stay safe with solar! I like the sound of that.
A solar security light gives you motion sensing security anywhere you need it. You can put one at the back of your yard or any other place that would be too expensive to run wiring.
The unit usually comes with a solar panel that can be placed wherever you get a lot of sun (the panel is connected to the unit by 10 to 15 feet of wire). A fully charged unit can be triggered hundreds of times in a night.

Go solar with your holiday lights and you won't have to worry about your electric bill going through the roof this holiday season.
You also won't have to worry about going out in the snow in your housecoat after a few "hot toddies" to unplug the christmas lights.
God bless us everyone!

Other solar outdoor lights to consider are: