With more solar installers than ever, how do you choose the right one?
Unfortunately in life there are no guarantees, but you can take some steps to ensure that you get a qualified solar panel installer with a great track record.
The important thing is to not let 'solar horror stories' scare you away from taking advantage of the amazing power of solar electricity.
You may have heard about a friend of a friend who got solar panels installed in 1986 and then got a leak in his roof.
This leaky roof tale may be true but you should keep a couple things in mind:
Bad news travels fast
Solar professionals and their products have come a long way over the years
A solar panel installation is now an everyday occurrence.
Certification programs, solar training, and regulation have made the solar industry a much safer place for consumers. You can even find solar companies that will provide you with solar financing.
Solar panel systems have also improved a great deal over the years. With more efficient panels and vastly improved mounting systems, your solar installation should go smoothly.
I should also mention that the cost of solar energy has dropped dramatically over the past few years.
So, now that your mind has been put at ease, let's take a look at what you should you be looking for when shopping for a solar installer: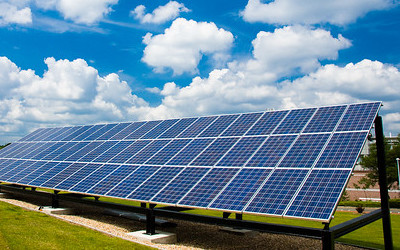 Credentials
The big daddy of solar installation credentials is certification from the North American Board of Certified Energy Practitioners (NABCEP).
NABCEP certification can be a factor in helping you decide on a solar panel installer, but it is not the be all and end all. There are many great solar panel installers who have not gone through the NABCEP examination.
Referrals
What good is every certification in the book if a solar company's customers have nothing good to say about their solar install?
Ask your solar installer for a list of former customers you can contact and have a little chat with.
You will want to find out not just how well the installation went, but if the installer dealt promptly with any issues that came up after the install was complete.
Experience
You don't have to choose a solar installation company that has been in business for twenty five years (we all have to get experience somewhere).
You will, however, want to ask about the background of the company's lead installer.
Who did he or she work with previously, and how many installations has he or she been responsible for?
Brands
Some solar panel installers work with a variety of solar panels and inverters while others use a single brand exclusively.
Most of the widely available solar brands are of reasonable quality and will meet the needs of any residential installation.
It is still a good idea to ask about which brands a potential installer uses, however, so you can do a little research of your own.
Warranty
Solar panels are a long term investment.
Most solar manufacturers offer warranties to cover any issues you might have with their products. Your solar installer should also stand behind their work.
Be sure to ask what kind of warranty your installer offers so that any problems with their work doesn't cost you more money.
These are a few of the factors to consider when choosing a solar installer. Take your time when choosing to ensure that your solar experience is a great one.
To help you learn more about who should be installing your solar panels, we'll take a look at some of the main solar installation companies.
We start with SolarCity.
Also, check out the Andalay system of Akeena Solar.
And don't forget the solar stylings of REC Solar.
More to come!