Learning about solar houses can teach you a lot more than you think.
It can show you how solar power works in everyday life and how it can work for you.
It can also help you see any potential pitfalls with home solar energy.
This will allow you to avoid those same pitfalls when you install solar panels.
One of the solar power issues that people have a lot of questions about is solar financing.
They might think that solar panels are a good idea but they want to know the best way to pay for them.
To quote the timeless wisdom of the great poet in Jerry Maguire: "Show me the money".
Thankfully for people interested in a solar panel installation, there are more ways than ever to find solar money.
Options for solar financing include solar leases, energy efficient mortgages, and power purchase agreements.
There are also state government loans available as we see in the case of David Thomas and his solar installation (as reported in the Columbia Daily Tribune).
Mr. Thomas and his wife had been doing everything they could to help out the environment.
This included reducing their power consumption, composting their organic waste, and even growing some of their own food.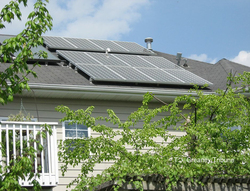 Until recently, however, the Thomas family had not been able to install a solar electric system. That all changed with the advent of the Missouri Linked Deposit Program.
The Linked Deposit Program provides "low-interest loans to homeowners who want to make alternative-energy retrofits". This state program allowed David to take out an $11 000 loan to pay for a twelve panel solar electric system.
The program should save the Thomas family over $1500 in interest payments over the five year loan.
These new financing options are a great way to make solar panels more affordable. Some people even look at solar power as an investment that will offer an attractive rate of return.
People decide on solar houses for many different reasons, however, and David Thomas was thinking of the environmental benefits rather than any financial benefits when he installed solar panels.
Although David hopes the panels will pay for themselves over time, he really enjoys the great feeling of being able to supply power back to the electrical grid.
On a lighter note, David also loves to open his laptop and check out how much power each one of his solar panels is producing.
This sort of monitoring software is available with many solar companies and provides a fun way for people to spread the solar power word.
It should also provide some additional incentive for any of you gadget lovers out there. Just think of how fun it will be to monitor your solar system from your iPhone!