A solar car battery charger is actually a pretty simple device.
That doesn't mean, however, that it can't keep you out of a complicated situation.
It's no fun when you turn your car key in the ignition and hear a clicking noise instead of an engine starting. You might even close your eyes and think to yourself: "Oh, shoot!" (or something like that).
Then you immediately start thinking about how much money a tow truck and a cab are going to cost and how late you're going to be when you finally get wherever it is you were trying to go. You might even look to the skies with upheld arms and exclaim: "How can I keep this from happening again?"
There's a simple answer to that: Get a solar car battery charger.
A solar charger for your car consists of a small solar panel that you place on your dashboard or attach to your window with included suction cups. The charger then plugs into your car lighter socket or attaches directly to the battery.
The solar panel provides a steady maintenance-level charge to your vehicle's battery. This ensures that your battery remains topped up even if you don't start your vehicle very often.
Sounds like a pretty great idea for harnessing the power of the sun. In fact, Volkswagen even shipped solar panels with its new Beetle model to maintain a full battery charge while the cars were being transported.
If you are thinking about a solar charger for your car, here are a few features you might want to look for:
An LED light that indicates whether your solar panel is charging
Overcharge protection to make sure your battery doesn't get too much juice
A blocking diode that keeps your car battery from losing its charge overnight
Most solar chargers will have these features but it never hurts to make sure.
There are quite a few solar charger models available and here are some to consider:
SunForce Solar 12V Battery Maintainer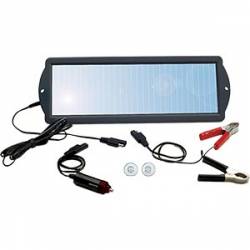 This 1.8 Watt solar charger is made with thin-film amorphous solar cells and only weighs 1.8 pounds. It has all the features you need to keep your car's battery in top condition, including:
Cigarette Lighter Adapter (CLA)
Battery Clamps
Suction Cups for window mounting
Wagan 2017 Solar Car Battery Charger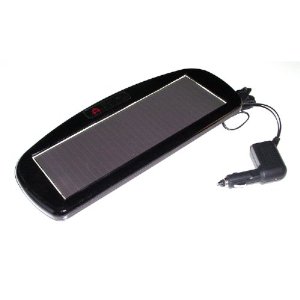 This is a sleek looking charger manufactured by Wagan Tech. This company describes itself as being "in the business of high-tech automotive accessories".
Sunsei SE-150 Solar Charger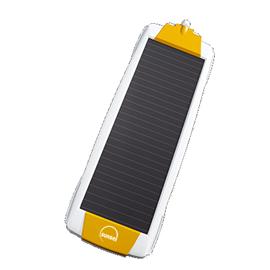 This charger has overcharge protection and comes with cigarette lighter adapter, battery clamps, and suction cups.
Those few models should get you started on your way, but don't limit your possibilities. More companies than ever are producing portable panels that are reliable and cost-effective.
Check out our pages on folding solar panels and flexible solar panels for some higher power options. Taking a little time to find a solar charger for your car now might save you a lot of time, money, and frustration later.