A solar bird bath can accomplish a lot more than you think.
It's one of those handy items that allows you to do several things with one minor purchase.
Here are 5 things a sun powered birdbath can offer you:
A great way to attract birds to your yard
Peaceful water fountain sounds
A beautiful lawn ornament
Less mosquitoes since you won't have standing water
Free time since you won't have to do any wiring
Going with a solar birdbath fountain has the same advantages of other solar yard additions. The main advantage is that you can place the bird bath anywhere you want (as long as it's a sunny spot) and not have to worry about new wiring or extension cords.
Also, you can run the bird bath all day for months and not pay an extra cent on your electric bill. The convenience and lower electrical costs make purchasing this solar gadget a win-win situation.
Also, if you enjoy the relaxing sound of running water at night, you are in luck. Some solar powered bird baths are equipped with a replaceable and rechargeable battery pack that can store up power for night time or cloudy day use.
(If you're looking for a little variety in your fountain, look for one of the bird baths that features an adjustable spray nozzle with different spray patterns.)
Does the perfect spot for your solar bird bath happen to be in a shady spot in your yard? This doesn't have to be a problem.
Some of the bird bath models feature a detachable solar panel that can be placed in a sunny spot. The panel then powers your bird bath through a wire that is included with the unit.
If hummingbirds are your favorite feathered friends, you can also find solar powered hummingbird baths. These are usually hanging baths that are shallow with multiple levels.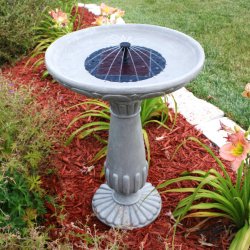 Let's take a look at a few frequently asked questions:
How does it work?
A solar panel powers a low voltage water pump that recycles water from a hidden reservoir in the fountain.
How does it look?
Pretty much however you want it to look. There are an incredible amount of styles available. This includes classy looking copper bird baths as well as ones made of a very durable resin.
How do you take care of it?
Assembly is pretty simple and once you set it in a sunny spot all you have to do is keep your bird bath clean.
One warning: In the winter the solar panel and pump must be stored in a dry, frost-proof environment. Some of the bird baths come with a winterizing plate that can replace the panel and pump for year round use.
One more warning: Don't ever run the pump with no water in the bird bath or you could do permanent damage.
A solar bird bath looks great, is easy to set up, won't raise your electric bill, and will keep your bird friends happy.
What more can you ask from a yard ornament?