Schott solar panels come from the fine people at the Schott Corporation.
This corporation is the North American headquarters of the German Schott Group which has been around for 125 years.
Now that we've got that bit of corporate history out of the way…
Schott Corporation manufactures and distributes special glass and glass-related systems.
This expertise in glass led to Schott's development of solar applications. Schott Solar's shareholder is Schott AG which has been in the specialty glass market for over 100 years.
Schott's ASE 300 solar panel is "the largest standard module available on the market today". It features hardened dual-pane glass for long-term stability.
Schott also offers ASI Glass. This is a "building integrated photovoltaic" that performs all the functions of a regular window but also creates electricity.
ASI Glass comes in a transparent version and a 'privacy' version. These glass modules come in different sizes up to 4′ by 7'10".
Another area of solar power that Schott is a world leader in is CSP or "concentrated solar power".
In 2012 the company won the "CSP Technology and Supplier Award" (for the second year in a row) for their solar thermal receivers which are used in solar power plants. These receivers are vacuum-insulated devices that convert solar energy into heat.
This heat is then used to drive a turbine and generate electricity. Schott's CSP receivers have stayed a step ahead of the competition by implementing various advances that have increased the solar efficiency of the units.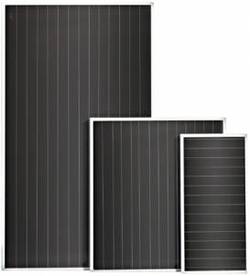 Schott solar panels have also followed the current trend and come up with a premium offering in the solar panel market.
This panel is called the PERFORM MONO PV module and it is a higher efficiency solar panel than the other panels available from the company. It has a ten year product warranty and a twenty five year power warranty.
Why a premium panel offering?
There has been an ongoing process of "commoditization" in the solar industry that has made various solar panel brands interchangeable to consumers. This means that many people buy from whatever solar panel company offers the cheapest product.
This can make it difficult for companies to stay profitable. The companies, therefore, look for ways to differentiate their solar panels so the panels can be sold at a premium. So, it's just business!
Here are the specs on Schott solar panels:
Note: If you want to know more about what these stats mean check out solar panel info (it will open in a new window so you can go back and forth).
Now, onto the stats…
Rated Power at STC (Standard Test Conditions)
This will be the "advertised" wattage of the panel you're looking at (e.g. 180 watt or 205 watt).
Rated Power Tolerance (%)
ASE 250 – +/-2%
ASE 260 – +/-2%
ASE 270 – +/-2%
ASE 280 – +/-4%
ASE 290 – +/-4%
ASE 300 – +/-4%
ASE 310 – +/-4%
Rated Power Per Sq. Ft. (Watts)
ASE 250 – 9.6
ASE 260 – 10.0
ASE 270 – 10.3
ASE 280 – 10.7
ASE 290 – 11.1
ASE 300 – 11.5
ASE 310 – 11.9
Module Efficiency (%)
ASE 250 – 10.3
ASE 260 – 10.7
ASE 270 – 11.1
ASE 280 – 11.5
ASE 290 – 11.9
ASE 300 – 12.4
ASE 310 – 12.8
Materials Warranty (Years)
1
Power Warranty (Years)
20
Cell Type
Ribbon
Maximum Power Temperature Coefficient (% per °C)
-0.47