Sanyo solar panels use the HIT technology in their solar cells.
Before we explain what this means, however, we should mention that Sanyo modules have been re-branded as "Panasonic HIT". (Things move pretty fast in the solar business, don't they?)
HIT involves combining single crystalline silicon and ultra-thin amorphous silicon layers
What does this mean to you? Higher efficiency and more power per square foot. It also means you're going to be getting more power on a hot day.
As you may already know, increased temperature actually decreases the efficiency of solar panels. The HIT technology reduces the amount of power output you lose as the temperature rises.
Or, as the Sanyo website puts it:
HIT will give you "maximum power within a fixed amount of space" and "save money using fewer system attachments and racking materials".
Boy, that's amazing. There's no way Sanyo could top that. Or could they?
Yes, it seems they could. This is where the "HIT Double" comes in.
The HIT Double is a Sanyo solar panel that is "bifacial" (I guess calling it two-faced would have given the wrong impression). Bifacial means that the HIT Double takes in light from both sides of the panel.
The back of the panel creates electricity from ambient light reflected off surrounding surfaces. This makes the HIT Double a perfect choice if you intend to integrate solar panels into your home as awnings, carport covers, or deck coverings.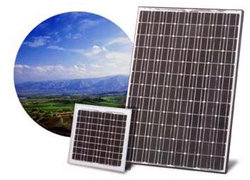 It can also provide a 30% higher power generation per square foot.
Yes indeed, Sanyo solar panels are a top notch product.
Here are the stats on their different models (the stats for the HIT Double include numbers for the top side and the numbers for both sides of the panel):
Note: If you want to know more about what these stats mean check out solar panel info (it will open in a new window so you can go back and forth).
Now, onto the stats…
Rated Power at STC (Standard Test Conditions)
This will be the "advertised" wattage of the panel you're looking at (e.g. 180 watt or 205 watt).
Rated Power Tolerance (%)
+10/-0
Rated Power Per Sq. Ft. (Watts)
HIT Power 180 – 14.4
HIT Power 186 – 14.9
HIT Power 190 – 15.2
HIT Power 195 – 15.6
HIT Power 200 – 16.0
HIT Power 205 – 16.4
HIT Double 180 – 13.8/17.6
HIT Double 186 – 14.2/18.2
HIT Double 190 – 14.6/18.6
HIT Double 195 – 14.9/19.1
HIT Double 200 – 15.3/19.6
Module Efficiency (%)
HIT Power 180 – 15.5
HIT Power 186 – 16.0
HIT Power 190 – 16.4
HIT Power 195 – 16.8
HIT Power 200 – 17.2
HIT Power 205 – 17.7
HIT Double 180 – 14.8/19.0
HIT Double 186 – 15.3/19.6
HIT Double 190 – 15.7/20.0
HIT Double 195 – 16.1/20.5
HIT Double 200 – 16.5/21.1
Materials Warranty (Years)
HIT Power 180 – 5
HIT Power 186 – 5
HIT Power 190 – 5
HIT Power 195 – 5
HIT Power 200 – 5
HIT Power 205 – 5
HIT Double 180 – 2
HIT Double 186 – 2
HIT Double 190 – 2
HIT Double 195 – 2
HIT Double 200 – 2
Power Warranty (Years)
20
Cell Type
Monocrystalline/Amorphous Silicon
Maximum Power Temperature Coefficient
(% per °C)
HIT Power 180 – -0.33
HIT Power 186 – -0.30
HIT Power 190 – -0.30
HIT Power 195 – -0.30
HIT Power 200 – -0.29
HIT Power 205 – -0.29
HIT Double 180 – -0.30
HIT Double 186 – -0.30
HIT Double 190 – -0.30
HIT Double 195 – -0.29
HIT Double 200 – -0.29