Greg and Deb Holder have over twenty years of experience in RV solar.
The Holder's company, AM Solar, provides hands-on design & installation of solar charging systems for RVs.
AM Solar's focus on recreational vehicle photovoltaic systems allows them to stay on the 'Cutting Edge' of developments in solar RV power.
Greg and Deb also have first hand experience with RV solar power. They live on their RV for extended periods as they travel the country giving seminars and attending various rallies.
They also spend long periods of time boondocking in remote places so they know what it takes to keep your batteries charged with RV solar.
We got a chance to talk to Deb Holder about solar panels, batteries, and the benefits of going solar on your RV.
SolarPowerBeginner: How does solar power give people more freedom in their RV lifestyle?
Deb Holder: A solar battery charging system allows RVers to charge their batteries without plugging into shore (aka: grid) power, or starting up the generator. This means you can camp in places without hook-ups and still have full use of all the 12 volt electric loads in your RV.
SolarPowerBeginner: What does a "typical" solar RV setup include?
Deb Holder: A good solar battery charging system includes: Solar Panel(s) and Mounts; Combiner Box; Charge Controller; Fusing: and a wire harness with a minimum of size 8 gauge wire.
SolarPowerBeginner: Do you enjoy RVing yourself?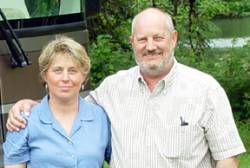 Deb Holder: Absolutely!!! We love to travel and explore our great state and our country. We enjoy camping without grid power (boon-docking), typically on public lands.
We also travel for our business, attending various RV rallies and educational events, often camping without grid power in parking lots or fields, testing equipment and teaching RVers about the benefits of solar power.
SolarPowerBeginner: Could you tell us a little bit about your SunRunner solar RV systems and their AM100 solar panels?
Deb Holder: Our SunRunner systems are developed to get more power in a smaller footprint than any other solar equipment available for RVs. Our first 10 years in business found us serving RVers who had already purchased solar equipment and who needed help making it work for them.
We found that RVers were buying equipment they thought was a good deal, only to learn that the components and wire harness were woefully inadequate for the RV operating environment.
This led Greg to design and manufacture solar equipment specific to RVs so we could install and/or upgrade RVers systems for optimum efficiency and performance.
The AM100 solar panels are custom made for us by BP, with 44 cells instead of the typical 36 cells to provide a higher operating voltage.
The higher operating voltage, combined with a "Maximum Power Point Tracking" charge controller, produces more amperage for re-charging RV household batteries than standard solar equipment. You can read more detailed information about the SunRunner systems on our website: www.amsolar.com
SolarPowerBeginner: You recommend AGM (absorbed glass mat) batteries over the flooded variety for solar power storage on RVs. Why is this?
Deb Holder: The "Lifeline AGM" batteries offer RVers more choices for placement because they do not outgas, like traditional flooded lead-acid batteries. The AGMs also recharge faster and do not require the same maintenance as the flooded type.
SolarPowerBeginner: Do you have any way of determining how well different solar panels work in real world conditions?
Deb Holder: You bet! We test a wide variety of solar panels on our own RV, as well as at our facility in Springfield, Oregon. We conduct these tests over time however, and it requires some pretty sophisticated equipment to accurately compare the output of individual solar panels.
SolarPowerBeginner: Is there any downside to "going solar" on your RV?
Deb Holder: Not at all! Even RVers who prefer to camp in full service campgrounds will benefit from adding a one panel system to their rig. The solar battery charging system is superior to other charging sources such as a "converter" that charges the batteries while plugged into grid power.
This is because solar power is a pure Direct Current (DC) source of energy that does not need conversion, hence there is greater efficiency of the system, and amperage reaching the DC battery bank.
SolarPowerBeginner: What does the future hold for AM Solar?
Deb Holder: We hope to continue serving RVers with quality solar equipment for years to come! We're also looking at expanding our product line to include items that improve electrical efficiency overall for RVers, such as LED lighting.
Learn more about RV solar on the AM Solar Website.
Also, check out the Solar Power Beginner page on RV Solar.