REC Solar has everything you need for a 'turn key' solar solution.
Renewable Energy Concepts (REC) was founded in 1997 by California Polytechnic graduates Fred Sisson and Judy Ledford
(Fun Fact: Other notable Cal Poly alumni include John Madden and "Weird Al" Yankovic!)
REC has since grown into one of the largest solar installation companies in the United States with a service area that includes Arizona, California, Colorado, Hawaii, New Jersey, and Oregon.
REC installs solar electric systems on residential homes and also performs larger business installations.
To get a little more information on REC and their solar operations I made a call to the company's sales department and reached a very helpful fellow named Seth.
Seth informed me that REC has agreements with three different solar manufacturers:
I was also told that it is possible to purchase an REC solar electric system at Costco. In fact, Costco members even get a discount on their system.
(I'll take a twelve pack of laundry detergent, a ten pound jar of peanut butter, and a rooftop solar electric system.)
Seth also explained that REC employs NABCEP certified engineers and that all solar design and installation is kept in-house (not contracted out to independent dealers).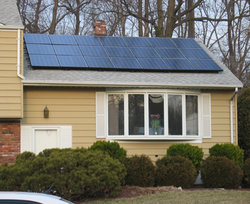 The main benefit for REC of keeping things in-house is greater quality control. They know that each installation job will be performed to company specifications.
REC customers also benefit by knowing a single company is taking responsibility for every step of the solar installation process. This reduces the chance of getting the runaround if there are any issues with the solar panels or the installation job.
Also, REC has a financing agreement with SunRun that allows customers to 'pay as they go' and avoid an upfront payment of tens of thousands of dollars.
When you partner with SunRun, you purchase solar electricity instead of purchasing the actual solar panels. SunRun handles all maintenance and you get the benefits of solar power with a minimal upfront payment.
This is great news since the initial outlay of cash is often cited as the number one reason people don't go solar. (So now it looks like you don't have any excuse not to harness the awesome power of the sun!)
REC Solar also has great customer reviews. The general theme of the reviews involves REC staff going 'above and beyond the call of duty' to ensure each customer had a great solar installation experience. That's always a good sign.
So lets do a little recap of REC and their solar strengths:
Experience: REC has been around since 1997. They're no fly by night operation.
Credentials: REC features NABCEP certified engineers.
Brands: REC installs Mitsubishi, Sanyo, and REC Group. All quality panels.
Referrals: It's difficult to find REC customers with anything bad to say about their solar installation.
Well everything seems to be in order here. If you're thinking of a solar electric installation, REC might just be the company for you.