You might say that PowerFilm Solar has a lot of irons in the fire.
You're probably familiar with the company through its rugged line of portable solar products like flexible and folding solar panels.
In fact, we've featured their panels numerous times here on Solar Power Beginner.
We heard good things about the ruggedness and portability of the company's lightweight solar materials but hadn't thought much more about it.
It wasn't until we received an email from a PowerFilm employee encouraging us to check out some new products that we took a closer look.
That was when we realized that we were dealing with an interesting little company with a lot on the go.
PowerFilm is an Iowa based company that was founded in 1988 by two former 3M research physicists with a total of 65 years of experience in solar and semiconductor research and development.
The company has focused its efforts on developing low-cost thin film solar modules through an industrial scale manufacturing process.
On top of producing top of the line portable solar power products, the company is involved with building integrated photovoltaics (BIPV).
Sound complicated?
Actually, BIPV simply refers to solar electric products that also act as building materials (killing two birds with one stone, you might say).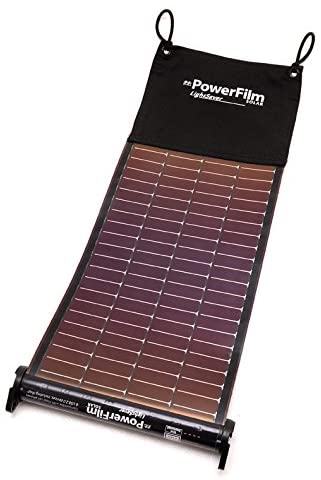 PowerFilm solar products are a great match for BIPV because they are lightweight and durable. This allows them to be combined with building materials like fabric, metal, and membrane.
These qualities also make these solar products a great match for military applications. PowerFilm has developed partnerships with military contractors to supply foldable and rollable solar chargers and PowerShade remote operations hubs.
Also, it turns out that the company really does have a lot of new products to check out.
These products include:
PowerPierThis is a great solar solution for boaters who are looking to trickle charge their boat battery or boat lift battery. The PowerPier comes with an adhesive backed mounting plate that can be left in place for quick solar panel installation.
PowerPack +PlusThis portable solar power kit is perfect for camping, hiking, or any other outdoor acivity. It includes a 14 Watt rollable solar panel, a battery pack, a rechargeable light, a fan, and a 15′ extension cord.
E&P Magnetic Solar PanelThis magnet-backed solar panel is specially designed for emergency and police vehicles. The 30 Watt panel helps provide the power necessary to operate vehicle radios and computers.
PowerTour RV Solar PanelsThis RV solar power kit offers a simple way to keep your RV battery fully charged and ready to go. The kits come with a 42 or 60 Watt solar panel backed with adhesive so no drilling is required. You'll also get a charge controller, 15′ of wire, 3 pigtail wire with connectors, and a wire placement kit.
PowerDrive Electric Cart PanelsThese panels will ensure that your golf cart lasts for a full 18 holes. They feature 'peel and stick' backing for easy installation and they come in three different sizes.
PowerFilm Solar is a company to keep an eye on. They have developed some exciting new solar applications and it will be interesting to see what they come up with next.
For more information check out the PowerFilm website.