A pool shower could be a great addition to your patio or deck.
If you make it a solar shower you'll also be going green and saving yourself some money in the process.
A solar shower for your pool area is a step above a camping shower. It is a free-standing shower that attaches to a garden hose and holds about 8 gallons of water to be heated by the sun.
Why would you want a shower by your pool?
One great advantage of a pool shower is the fact that you can rinse off any dirt, grass, or sunscreen before you go for a swim. This will keep your pool a lot cleaner and make things easier on your pool pump and filters.
Another advantage is that after swimming you can quickly and easily rinse off all that chlorine that sometimes causes dry and itchy skin.
These showers are available in a variety of materials including lightweight PVC, stainless steel, and even wood.
Assembly and installation is pretty simple, usually just involving the assembly of two pieces and bolting down the shower to your deck or patio.
Then you hook up your garden hose and you're ready to go.
Also, you'll enjoy those showers even more just thinking about how all that hot water isn't costing you a cent.
Here are a few models you can check out: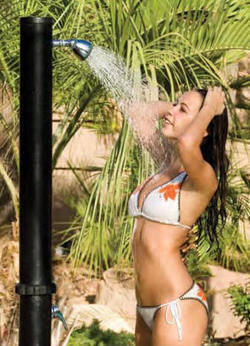 Brookstone Outdoor Solar Shower This sleek looking shower warms water in 1-2 hours, includes all hardware, and stands 6'6″ high. It also features a swivel head and temperature adjustment knob.
Solar Fizz This Swiss-made product features easy setup and a detachable shower head. This could be a great choice for European visitors but unfortunately the company is still looking for North American dealers.
French Riviera Solar Shower Designed by Giordano Industries in France 20 years ago, this shower features a patented "Soltub" collector that acts as a solar collector and a hot water storage unit. The shower is available in a cream colored steel model, a brushed stainless steel model, and a teak wood model.
Here are a couple more things to keep in mind:
You might pay a little more for a stainless steel shower model, but it does have an advantage over galvanized steel, brass, or plastic varieties. The advantage is that stainless steel won't rust when exposed to salt water and chlorine. This durability is an important thing to consider when your shower will be exposed to the elements year round.
Speaking of year round exposure, it is a good idea to remove the shower head and valves from your shower if the winters get harsh where you live. Winterizing your shower in this way can really extend the life of your product.
Now you should have all the information you need to get started with a clean energy shower for your yard. Since going green and staying clean make such a perfect combination, check out a solar shower for your clean, green needs.