A marine solar panel is perfect for when you're relaxing out on the water.
Say you're out in the sun listening to a little Steve Miller Band and having a great time.
What could go wrong?
Well if you don't want your little singalong of "The Joker" interrupted by a powerless stereo, you might want to think about a marine solar panel.
And powering up your boombox is just one benefit of using solar power to turn your watercraft into a solar panel boat.
It's hard to enjoy the good times on the high seas when your battery is dead before you've left the dock. Many boats that sit idle during the week will end up with a dead battery by the weekend. Thankfully this unfortunate situation can be avoided with a solar trickle charger to protect against natural battery discharge.
Also, when you're out on the water a portable solar panel could be used to recharge batteries or mp3 players. A slightly larger setup could power small appliances.
For more information on how to power up on your boat check out our pages on:
These portable power packs are a great way to go solar on the waves. Also, you can take some of the guesswork out of solar panels for your boat by going with a marine solar panel kit. These kits usually come with a solar panel, a charge controller, a mounting kit, and wiring.
You can also add an inverter if you're looking for some AC power for household gadgets.The power available in these kits ranges from 10 watts to 320 watts and prices range from $175 to $1800.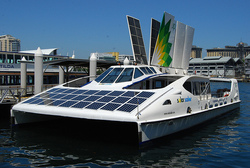 Check out this great video featuring lightweight, flexible solar panels for your boat. There is a 50 Watt panel featured in the video that only weighs 800 grams!…
If you don't require too much power on your boat you might want to consider a thin-film solar panel. It responds better to shady conditions and it's lightweight.
There are some other cool options for using solar power on your boat too.
How about a solar marker buoy? These buoys are highly visible in the daytime and they will also illuminate the night thanks to a watertight solar generator.
Also, if you're looking to keep your air circulating check out a stainless steel solar vent. These can move 1200 cu. ft. of air per hour to provide silent and reliable ventilation 24 hours a day.
In the 'small but handy' department, try out a clamp-on solar powered light. These attach to any railing, step, ladder, coaming, stanchion, or dock box and will give you light all night.
Here are some other additions for your solar panel boat:
DockLite Solar Dock & Deck Light
Solar-Powered Micro Compass System
Solar-Powered Bird Repeller
You just might find that boating and a marine solar panel make a perfect match. After all, if you're out on the water and the sun is shining, you might as well put it to work. Keep on rockin' me baby!