Kyocera solar panels have been producing renewable energy since 1975.
Based in Kyoto, Japan, Kyocera has recently announced plans to triple its solar cell production. The company is also one of the largest vertically-integrated solar firms in the world.
What does "vertically-integrated" mean? It means that the company keeps everything "in house" and doesn't just slap its name on a panel that was manufactured by another company. By controlling every phase of manufacturing, the company can ensure the quality of its products.
Kyocera is not only involved with the manufacturing of solar panels, but the installation of the panels as well. (In fact, the company has installed more than seven million of its modules in various solar projects.)
Why have so many people decided to install Kyocera solar panels?
The popularity of Kyocera solar panels can be explained by the balance the company has achieved between a quality product and a reasonable price.
Though not quite as high-efficiency as Sanyo and SunPower, Kaneka panels will save you money and do a great job producing power as long as you are not working with very limited space. (The main advantage of high-efficiency panels is that they allow you to fit more watts in less space).
Kyocera's panels are coated with the company's d.Blue surface treatment (named for its dark blue color). This treatment minimizes surface reflectance and has allowed Kyocera panels to reach a conversion efficiency of 16%.
Also, the dark blue treatment with Kyocera's black module frames make for a pretty stylish panel. The d.Blue modules (135, 180, and 205-watt) also feature multi-contact output cables, a heavy-duty aluminum frame, and a 20 year power output warranty.
Kyocera also does a good job providing the latest training to its dealers so you know that Kyocera modules will be installed properly.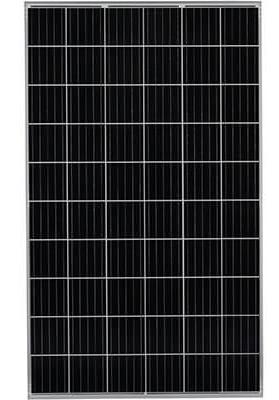 This training includes courses that are certified by the Interstate Renewable Energy Council (IREC) and the North American Board of Certified Energy Practitioners (NABCEP). This should provide some extra peace of mind should you decide on Kyocera for your solar installation.
Are you ready for some Kyocera panel stats? We'll keep this as user friendly as possible since not everybody loves statistics.
Note: If you want to know more about what these stats mean check out solar panel info (it will open in a new window so you can go back and forth).
Now, onto the stats…
Rated Power at STC (Standard Test Conditions)
This will be the "advertised" wattage of the panel you're looking at (e.g. 180 watt or 205 watt).
Rated Power Tolerance (%)
+/-5%
Rated Power Per Sq. Ft. (Watts)
KD130SX – 12.0
KD135SX – 12.5
KD130GX – 12.0
KD135GX – 12.5
KD180GX – 12.6
KD205GX – 12.8
KD210GX – 13.1
Module Efficiency (%)
KD130SX – 13.0
KD135SX – 13.5
KD130GX – 13.0
KD135GX – 13.5
KD180GX – 13.6
KD205GX – 13.8
KD210GX – 14.2
Materials Warranty (Years)
1
Power Warranty (Years)
20
Cell Type
multicrystalline
Maximum Power Temperature Coefficient
(% per °C)
-0.46