Green web hosting really does seem like a no-brainer.
If you could find a solar hosting company with competitive prices and all the features you need, why wouldn't you sign up?
Well, for one thing, maybe you're the suspicious type (sometimes that's a good thing).
Maybe you think 'green web hosting' is just a marketing angle with no environmental commitment behind it.
When searching to see what options are available for solar web hosting, you definitely have to do a little homework. (You want to make sure these companies put their money where their mouth is).
A company called ThinkHost is committed to renewable energy powered web hosting so we decided to let Solar Power Beginner visitors know about the company's services.
Is ThinkHost headquartered in an off-grid log cabin?
Not exactly.
After all, they're a web hosting company, not off-grid solar experts.
ThinkHost is still able to offer web hosting that is 100% powered by renewable energy.
How can they do this?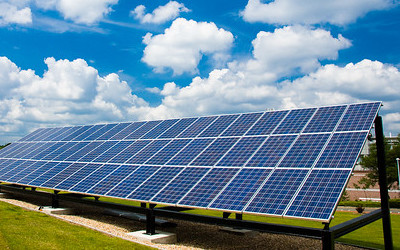 Well, first they ran an energy audit to calculate how much power the company used. Then they purchased enough solar power and wind power tags to offset the power they consumed from the grid.
Also, ThinkHost made sure that the green energy tags they purchased were certified by Green-e (one of the nation's leading green energy certification programs).
Here are a couple things to keep in mind if you decide to power your website with renewable energy:
You're doing something good for the planet.
You can tell your visitors about it!
You're probably aware that more people than ever are looking to give their business to environmentally-conscious companies, so don't be shy!
ThinkHost provides you with banners, buttons, and text links so you can let your visitors know that your site is powered by solar and wind power.
What features does ThinkHost offer?
We specialize in solar power around here and not technical web hosting specifications, but if you check out the ThinkHost features you'll find that they rank with those offered by the best web hosting companies. You'll even get bonuses like shopping cart, blog software, and design templates.
This all sounds great, but didn't we mention something about 'competitive prices'?
The green web hosting plan from ThinkHost is available for $7.95 per month when you sign up for two years. This means you can go green, get all the web hosting features you need, and save money at the same time.
Also, you can save an additional $30 on any plan if you use our Solar Power Beginner coupon code: oak_solarbeginner
It really does seem like a no-brainer. It also seems like another great example of a win-win situation that is good for consumers and good for the environment. It's nice to see that you don't have to choose between getting good value for your money and doing what's right for our future on this planet.

Check out ThinkHost and get started on your solar powered website today.