A solar shed light can light any small building without the need for wiring.
No wiring means no house call from a pricey electrician.
So this little solar light can save you money on an electrician, but it can also make your life a lot more convenient.
I know it's easy to think you'll never have to get anything from the shed at night but I've found it usually doesn't work that way.
Whether it's putting away the lawn chairs when the rain starts or trying to find the garbage bags on garbage night, you'll probably be thankful for the light more often than you think.
The unit consists of a solar panel you mount outside to catch direct sunlight to charge the battery and the light fixture you mount inside the shed.
Multiple LED lights are usually used in the fixture to save power.
A shed light is a good way to try out solar power without breaking the bank.
It's also a good way to keep from banging your head or stubbing your toe when you're looking for that last bag on garbage night.
After all, do the neighbors really need to hear you using the Big Guy's name in vain when they're trying to sleep?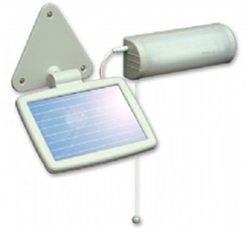 Prices range from $30 to $120 depending on the size and brightness you need.
For a solar light that's rugged and easy to install, check out the Light My Shed Solar Light.
Another model that may suit your needs is the Crown Solar Light for sheds.