You're probably hearing a lot about solar power homes lately.
As a solar enthusiast, I'm happy to hear that more people are hearing about what solar power can do.
I know that this awareness might be a person's first step towards taking advantage of home solar energy.
I also know that too many solar power statistics can be confusing.
Sometimes it's more informative to hear the story of a person who has already been through the solar installation process.
In this solar power homes section we take a look at other people's solar stories so you can learn from their experience.
Maybe the experience of someone else will help you decide if a solar electric system or a solar hot water system is a better choice for you. Or maybe you can learn more about a particular solar installer.
Whatever information you pick up, the idea is that you are better prepared for your own solar panel installation.
So let's take a look at a 'solar story' and see what we can learn:
In The Herald-Mail of Hagerstown, Maryland we learn about the solar adventures of the Fiola and Murphy families.
Debby Fiola and her family installed a 4 kilowatt system on the roof of their home in Pleasant Valley, MD. An area solar installer estimated the cost of this type of system at about $31 500.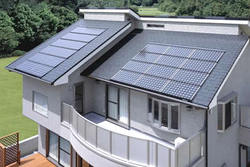 Solar can get a little pretty pricey, can't it?
But now we'll take a look at the bright side of the situation:
Debby looked at her family's solar power system as "an investment" and figures that their payback period will only be five to seven years.
This quick payback period will be accomplished through:
Federal and State Incentive Programs
Lower Electric Bills
The Sale of Renewable Energy Credits
Not too shabby.
From this example we can see that, despite the high upfront cost of solar power homes, they can still be an attractive investment. The key is to look at solar power as an investment and not some sort of 'get rich quick' scenario.
Now for the solar home story of Dan and Jodi Murphy of Hagerstown, MD.
The Murphys installed their solar power system in April of 2008 and have experienced lower monthly electric bills and "the feel-good factor" of using clean energy ever since.
This story is also somewhat of a cautionary tale, however. The Murphys need to replace some roof shingles and have found that their solar installation will make this more difficult.
So from the Murphy's solar experience we learn that it is always a good idea to check the condition of your roof before you install solar panels.
If the shingles will need to be replaced in the near future, it is a good idea to get it done before you go through with your solar installation. If the shingles will last for years, go ahead with the solar panels and have an installer remove the panels when the roof work eventually needs to be done.
When the work is complete, the solar installer can put your panels back in place and you'll be producing solar power again in no time.